Passion Audio Player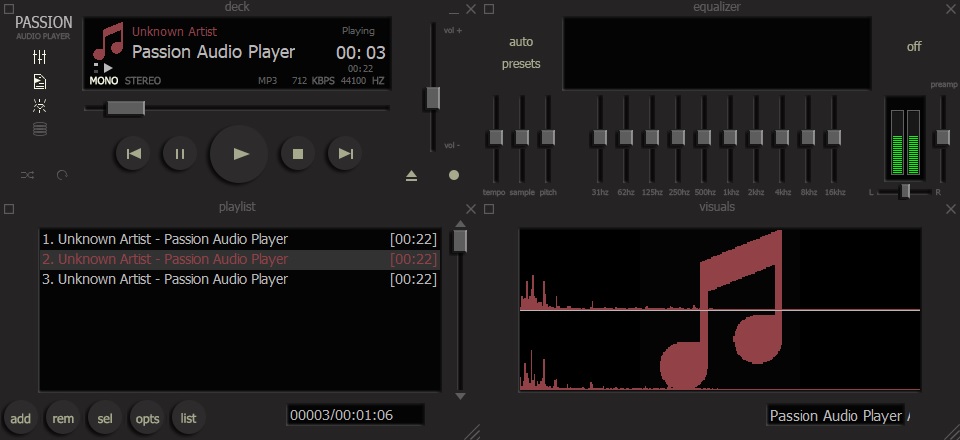 My date
Hot News
Released a NEW skin for Passion Audio Player with the name "New ERA skin" (16/12/2013).

I am happy to announce the release of the New ERA skin.

I named it "New ERA skin" because this will be the default skin for the next versions. It's totally developed by me and i hope you like it.



Click here to go to skins section.

First version with Lazarus Free Pascal compiler is running (24/05/2013).

I am happy to announce that the first version with Lazarus Free Pascal compiler is finally running.

There is a lot of work to be done to be at the level of the Delphi version because there are some components that need to be replaced so that they work with Free Pascal Compiler but since the start was made, it's just matter of time to make it work as it should.

I am so happy that i wanted to share it with you :)

Moving to Lazarus Free Pascal compiler (18/05/2013).

As you probably know i have spent in the past about 100 euros to buy the Delphi XE Compiler Starter Edition.
So i had the hope that sometime in the future, Embarcadero would decide to give to hobbist delelopers like me a Starter Edition that would support multiplatform code and so Passion Audio Player would be available to users with Mac or Linux and tablets with android e.t.c.
Lately they released Delphi XE4 and in order to make multiplatform code you have to pay some thousand euros, a value that is forbiden for me. So 3 versions after my Delphi XE version they keep supporting ONLY Professional programmers.

So the only solution for me is to move to Lazarus, which gives me the possibility to produce multiplatform code and i hope in the future a linux version will be released.

It will take enough time to convert my code to Lazarus, but i think it will worth the time.
Maybe some features will be reduced in feature versions, but version 3.0 is very good i think and so you will be able to use it for some years, until i release an equal one with Lazarus.

Thanks for the support and i hope you will have the patience to wait until the next version :)

Windows 7/8 User Account Control Error Fix for Passion Audio Player v3.0.

It seems that on some PCs that have Windows 7/8 installed, the User Account Control system doesn't allow Passion Audio Player to write on the hard disk the passap3.ini settings file and it results in a error that says : "Write String Error: Settings, Options_SkinToBeLoaded".
This error occurs when you try to close Passion Audio Player.

The solution is the following:

1. Uninstall Passion Audio Player.
2. Run the downloaded passap30.exe installation program as administrator.
To do this right click on passap30.exe and click "run as administrator"
3. Everything now will work fine.

I can't understand why this User Account Control doesn't allow Passion Audio Player to write on the hard disk, since during the installation you give it permission to install but for now this is the only solution i can provide.

Passion Audio Player v3.0 released (11/11/2012).

Click on the image to go to the downloads section.
Advertisement follows:
Older News
NEW Passion Audio Player plugin that enables VST plugins support released. (11/01/2012).

This new plugin is in BETA stage and has some known issues and bugs but since i'm rewriting several parts of the Passion Audio Player code and a new release may delay for several months i thought it would be better to release this plugin now until a final version is released together with next Passion Audio Player version.

Click here to go directly to plugins section.

Passion Audio Player v2.7 released (14/05/2011).

Click on the image to go to the downloads section.

Passion Audio Player is still active :).

Hi all.
I would like to let you know that Passion Audio Player is still an active project and that i will try to release a new version soon. The previous year was a difficult one for me but now i can continue the development. I have also bought the new Delphi XE compiler and i'm making some tests to make sure that everything will work ok with the new compiler and program code.

Concerning the site now i have moved the links to sites from the front page to a new page called links.

I have also added to the site one more advertisement to the left and i hope this will help me to cover the costs of the new compiler and site costs.

Thank you all for your support and messages and i hope i will be able to release the new version soon.

The passion remains :)

JM-DG created a toolbar for the Windows Taskbar thats controls Passion Audio Player (04/07/2009).

Special thanks to JM-DG for extending the capabilities of Passion Audio Player once more :).
Visit the plugins section to download it.

Passion Audio Player v2.6 released (01/07/2009).

Click on the image to go to the downloads section.

Updated Sonique Visualization Templates examples (02/05/2009).

I have uploaded at the plugins section some Sonique Visualization plugin templates written in Delphi so that you can write your own plugins. Two plugins were written by me and one by JM-DG and all include source code :). As you probably know Passion Audio Player supports this type of visualization plugins.
Site was redesigned by JM-DG (27/04/2009).

JM-DG believed that Passion Audio Player deserved a better site design and so he made a new one. So he used his great skills in graphics and designing sites and made this new site design and he suggested to replace the old one. So i could not say no :).
This new site design is really beautiful and i'm happy that all of you will have the opportunity to surf in it.
Thanks again JM-DG for making such a nice site for the Passion Audio Player visitors.

A new skin by JM-DG was released . (24/03/2009).

This new skin is called Brushed Rock and was designed by the user JM-DG for Passion Audio Player fans.
Thanks again JM-DG.
Click here to go directly to skins page.

Updated ALL skins to latest Passion Audio Player specifications (24/11/2008).

All skins were updated so that the are all ready for the next version of Passion Audio Player.

An EXCELLENT NEW SKIN by JM-DG was released (18/11/2008).

This new skin is called WMP 11 scin v1.0 was designed by the user JM-DG for Passion Audio Player fans.
Thanks again JM-DG.
Click here to go directly to skins page.

Introduced a new section in the site called programming (05/11/2008).

This new section contains some projects i had made in the past.

NEW SKIN by JM-DG for Passion Audio Player was released (23/08/2008).

This new skin was designed by the user JM-DG for the girls users of Passion Audio Players.
Thanks again JM-DG.
Click here to go directly to skins page.

3 NEW SKINS for Passion Audio Player were released (19/08/2008).

3 new skins that were designed by the user JM-DG were uploaded.
I would like to thank him for creating these nice skins for Passion Audio Player.
Click here to go directly to skins page.

ANOTHER NEW SKIN for Passion Audio Player was released (26/07/2008).

Another excellent new skin was designed by the user Laurel Ferguson.
I would like to thank him again for creating such a nice skin for Passion Audio Player.
Click here to go directly to skins page.

NEW SKIN for Passion Audio Player was released (28/06/2008).

A brand new skin was designed by the user Laurel Ferguson.
I would like to thank him for creating such a nice skin for Passion Audio Player.
Click here to go directly to skins page.

Passion Audio Player v2.5 released (30/05/2008).

More information is available at the downloads section.

Released DSP plugins SDK and Winamp DSP plugins wrapper(20/09/2007).

More information is available at the downloads section.

Passion Audio Player v2.4 released (04/03/2007).

More information is available at the downloads section.

Released New Skin, Water Skin v1.0 (15/12/2006).

Mainly this skin was created because I had some complaints from users that the original skin is too dark.
I hope this skin helps.
The skin is located at the Skins page of the Downloads section.

Working on Passion Audio Player v2.4 (03/12/2006).

It has been a long time since the last version was released, but I'm glad to tell you that all these months i'm working on version 2.4.
It will have some new features and improvements.
I wish i had more time to work on the new version, but my job caused me problems with my free time.
So I can't tell for sure when it will be ready.

Passion Audio Player v2.3 released (10/12/2005).

More information is available at the downloads section.
Soon will be released and the Passion Audio Player DSP plugins SDK.

Passion Audio Player v2.2 released (13/05/2005).

More information is available at the downloads section.

NOTE: There is also a Belorussian translation at: