Passion Audio Player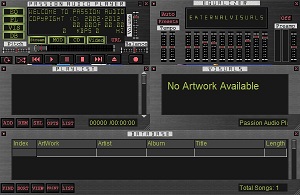 My date
Hot News
Released Passion Audio Player v4.0 for WINDOWS. (20/04/2015).

I am happy to announce that Passion Audio Player has reached v4.0.

Most of the features are same as v3.0, but i have changed my compiler to Lazarus/FPC and also made massive improvents and rewrote some parts of the code. The reason i changed the version number to 4.0 is that the program has now new code base due to the new compiler.

Enjoy and i am looking forward to reading your comments.

Updated skins section.
(03/02/2015).

Hello everyone.

I have updated the skins section and put the skins in an new order.

I have also uploaded the new era skin with a double size so that the player is visible in high resolution monitors.

Enjoy .

Happy new year everyone.
(04/01/2015).

Happy new year everyone.

I hope this year will bring everyone health and happiness.

Today i started research for the next version of Passion Audio Player, so i hope that i will be able to produce an even better Windows and Ubuntu version and also the first mobile version.

The reason i delay so much the mobile version is that i am trying to find a way to have the same code base for all platform versions and this is a little difficult since i have to transfer code if possible to these platforms.

Possibly if i had started a new audio player for the mobile platforms it would have finished by now, but i don't want to do that for now

Happy new year all .


Released first Ubuntu version.
(21/06/2014).

Released first Ubuntu version.
The version number however is 4.0 because it's based on the unreleased version 4.0 of my code.

Some features are missing compared to the windows 3.0 version, but you can use it as an audio player fine.
More features will be added in future versions.


Advertisement follows:
Older News
Added 2 NEW skins designed by Đỗ Duy Bình (04/01/2014).

I have added 2 new skins by Đỗ Duy Bình.

This skins has a playlist with big letters that makes song selection easier.



Click here to go to skins section.

Released a NEW skin for Passion Audio Player with the name "New ERA skin" (16/12/2013).

I am happy to announce the release of the New ERA skin.

I named it "New ERA skin" because this will be the default skin for the next versions. It's totally developed by me and i hope you like it.



Click here to go to skins section.